Welcome to the UNM Financial Aid Office
With more than 200 top-quality academic degree programs, there's no career, no future — no life — you can't reach when you begin at the University of New Mexico in Albuquerque. UNM is also one of the best educational values in the country.
The mission of the Student Financial Aid Department is to provide UNM students with the timely delivery of financial assistance while maintaining accountability and proper stewardship of the public, institutional, and private funds with which it is entrusted. We are committed to providing courteous service to support the academic mission and goals of the University and its students.
---
• Getting Started • • • • •
---
What is Financial Aid?
Financial aid refers to funding intended to help students pay expenses related to their education. Sources may be from grants, scholarships and work-study programs from federal, state, institutional and private sources. Financial aid from these programs may be combined in an "award package" to meet or defray from the cost of education.
Financial Aid is not intended to cover all basic living expenses. However, in many cases it is available to help students achieve their college goals without placing a financial burden on their families.
Financial aid may be awarded based on merit or need. Merit-based aid is awarded based on the recognition of special skills, talents, or academic ability. Need-based aid is awarded based on the applicant demonstrating financial need for the award.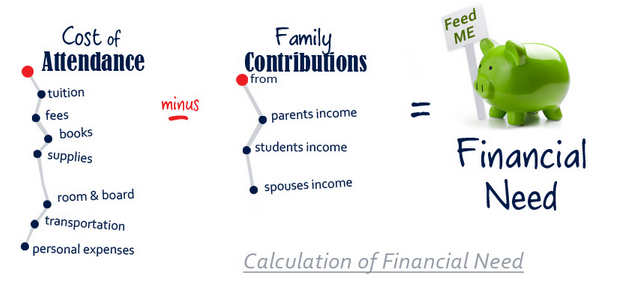 ---
What is Financial Need?
Financial need is the difference between the cost of attending UNM and the family's ability to pay. The family's ability to pay, called the Expected Family Contribution (EFC), is determined by completing a need analysis application, the Free Application for Federal Student Aid (FAFSA)
---
Net Price Calculator
Net Price Calculator - This calculator is intended to provide estimated net price information (defined as estimated cost of attendance — including tuition and required fees, books and supplies, room and board (meals), and other related expenses — minus estimated grant and scholarship aid) to current and prospective students and their families based on what similar students paid in a previous year.
---
Types of Financial Aid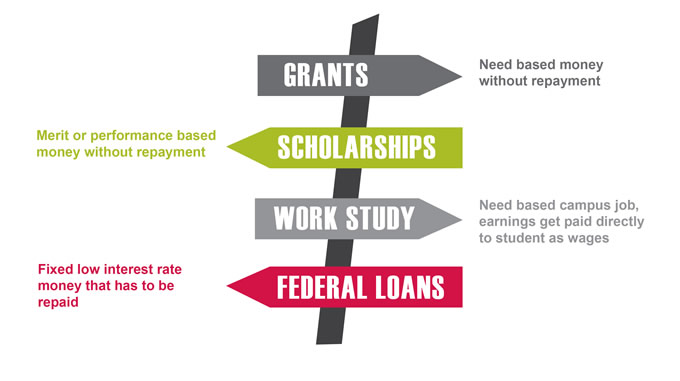 Here is a list of Quick links that may assist you: